This is a Perfect guide for beginners who wants to know how to download & install tally. It also Includes the steps of creating company and entering opening balances in tally software.
First, you will know about how to download tally and later on the installation part.
We have covered the step-by-step guide that will help you to know how to download tally and also to install into your personal computer or laptop. or you can also opt for a course on tally
Introduction
Tally is one of the most popular accounting software solutions used by businesses of all sizes. Its user-friendly interface and robust features make it an ideal choice for managing financial transactions and generating various reports. If you're new to Tally and looking to get started, this step-by-step guide will walk you through the process of installing and setting up Tally, ensuring you're ready to manage your finances efficiently.
Step 1: Download Tally Software
In order to download tally, you need to visit the official Tally website (www.tallysolutions.com) and navigate to the "Downloads" section. and then you are required to choose the appropriate version of Tally that suits your requirements. This needs to be done because tally offers different editions, such as TallyPrime, Tally.ERP 9, or Tally.Server 9. Now, Download the installer file to your computer.
Step 2: Install Tally
Once you have downloaded the installer file, locate it on your computer and double-click to launch the installation wizard. Follow the on-screen instructions to proceed with the installation. Select the desired installation location and click "Next." Review the license agreement and click "I agree" to continue. Finally, click "Install" to initiate the installation process.
Step 3: Launch Tally
After the installation is complete, locate the Tally icon on your desktop or in the start menu and double-click to launch the application. Tally will load and present you with a startup screen.
Step 4: Activate Tally
To start using Tally, you need to activate it. When you launch Tally for the first time, you will be prompted to activate the software. Fill in the required details, including your company name, address, contact information, and email address. You will also need to provide the serial number and activation key that you received when purchasing the software. Follow the prompts and click "Activate" to proceed.
Step 5: Create a Company
Once Tally is activated, you can start creating your company data. Tally allows you to manage multiple companies within a single installation. On the startup screen, click "Create Company" to begin. Enter the relevant details such as company name, address, financial year, and other necessary information. Save the company details and proceed to set up the chart of accounts.
Step 6: Set Up Chart of Accounts
The chart of accounts is a crucial aspect of financial management in Tally. It helps categorize and track different types of financial transactions. To set up your chart of accounts, navigate to the "Gateway of Tally" screen and select "Accounts Info" from the main menu. Here, you can create groups, ledgers, and define account classifications based on your organization's needs.
Step 7: Configure Other Settings
Tally offers various settings and configurations that can be customized to match your business requirements. These settings include taxation, inventory management, payroll, and more. Access the relevant options through the "Gateway of Tally" screen and configure them based on your specific needs.
Step 8: Enter Opening Balances
If you're migrating from another accounting system or starting a new financial year, you'll need to enter opening balances for your accounts. This step ensures that your books of accounts accurately reflect your financial position. Tally provides a dedicated option to enter opening balances under the "Gateway of Tally" screen. Enter the balances for each account and save the information.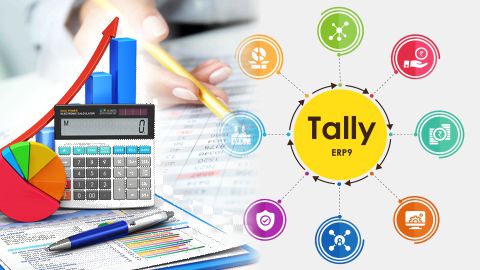 Tally – An Introduction
We are providing online Tally Certificate Course for who have knowledge of accountancy. It is a government initiation, You can use this tally course certificate in order to get job in the accountancy field. Tally – An Introduction is short term account
Conclusion
Congratulations! You have successfully installed and set up Tally for your business. By following this step-by-step guide, you have laid the foundation for efficient financial management and accurate reporting. Tally offers extensive features that cater to various accounting and business needs, so
take your time to explore and familiarize yourself with the software. With practice, you will become adept at leveraging Tally's capabilities to streamline your financial processes and enhance your business's productivity.