Hi everyone In this blogpost I am going to tell you about some free online computer courses with certificate and which are amazing course and can be completed online. but you can not opt free courses directly from the website. You need to fill financial aid service form in order to avail this service of free online courses.
Free Certificate Courses from top university Build career skills in Business, Computer Science, and more at Acme Collins School. There are many courses that student can do. if the student want to do short term online courses, he or she can do without any hassle.
Here I want to introduce you with the short term computer course or short term courses, which are useful to be joined. There are many student who do short term online computer courses, but some of them do these courses just for time pas, but here, you can learn not just for time-pas but, you will learn something new and interesting. I know that everything takes time. but when you are devoting time regularly and determined not to change your mind. you can achieve every goal in your life. but in opposite, when you suddenly take an action, that become ruined, because you didn't think about it before. So, taking quick action is not good. Think before action is necessary.
We are Acme Collins School, we provide so many courses online through our website, what we offer a student is a seamless interface so that user can login his account and can access the course. When user login his account, he sees at the very first step some options like view order, My course etc. user required to click on the "My course" option in order to access the course and also its exam in order to get a certificate.
if you talked about the certificate and all that, that is absolutely approved by Govt. The organization, and after you generate a certificate from here, you can include these courses' Certificate for applying for a JOB whether it is govt or private.
Here is a sample certificate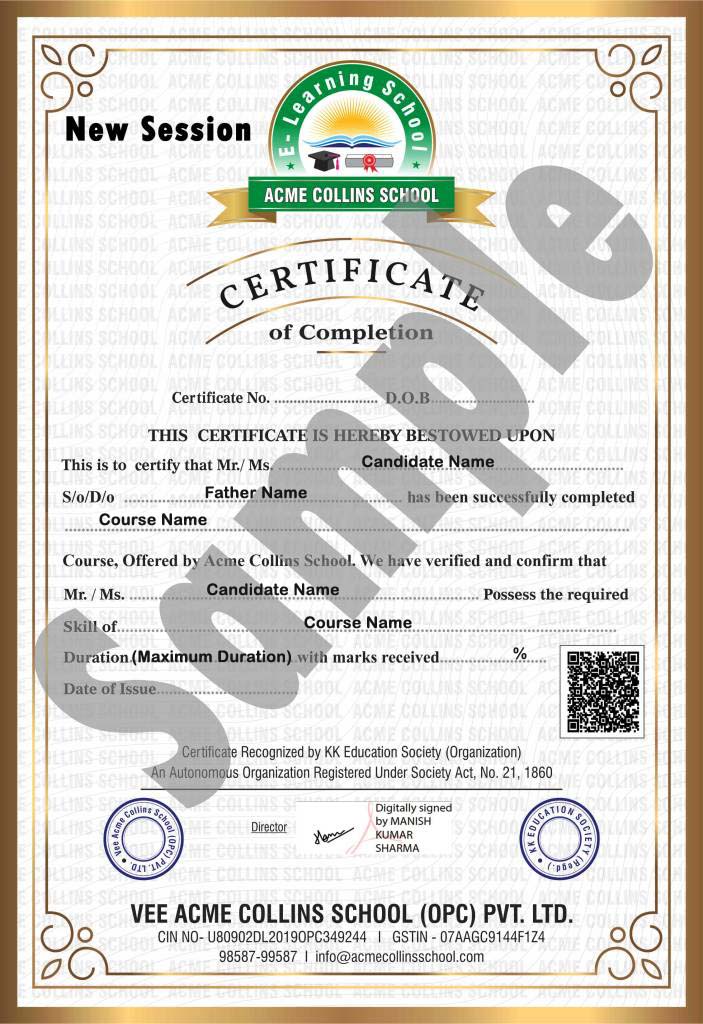 Still, If you have any query regarding the course, you can connect us at admission@acmecollinsschool.com or call at helpline no – 9858799587