What is ADCA?
ADCA is a short name for the Advance Diploma in Computer Application. This course help students to learn about computers and their software. If you are good at mathematics and want to learn about computer technology then you can go for the ADCA course. This course provides essential knowledge about computer application.
ADCA Course Description:
Advance Diploma in Computer Application is the course that is specially designed for those students who are completely new to computer technology and want to get extensive information about this field. The student who shows interest to understand computers and their applications deeply and willing to get a wide range of skills must do the ADCA course. (Enroll Now)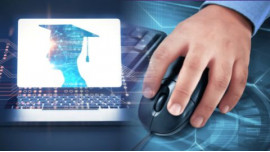 In this specialized course, students learn about the basics of computer fundamentals and its theories, then about MS Office software like MS word, Excel and Microsoft PowerPoint to get expertise in working in the office with the help of office software. After that, the student learns about financial accounting software for maintaining books of accounts of the companies.
Also, students master other skills like Photoshop and CorelDraw to make a career in the multimedia world, by becoming a Photoshop or CorelDraw expert. After those students learn programming languages like C, C++, C#, Java, and HTML. Also, students get familiar with the components of computer hardware and software.
So ADCA course is a fully packed course that allows students to learn a variety of sought skills to learn and earn better.
What is the Duration of ADCA course?
The course duration of ADCA or Advance Diploma in Computer Application is 1-year, and it is divided into 2 semesters of 6 months each.
| | |
| --- | --- |
| Course Name | Duration |
| ADCA or Advanced Diploma in Computer Application | 1 Year, (But, As this course is online, can be completed in less time) |
ADCA Course Fees
ADCA course fees fall between 6,000 to 11,000 and even more but at Acme Collins School you can take one of the most rated ADCA courses at Rs 4,740.
What is the Eligibility for the ADCA course?
The students who are willing to take up this course, then they have to clear the eligibility criteria as listed below
The student must have cleared the higher secondary or 10+2 from a recognized school. Here at Acme Collins School, it is only 8th Class.
If the student has a basic understanding of computers or had a computer as the optional subject, then that's going to be an upper edge to take admission.
ADCA course Syllabus
Understanding MS Excel for data entry skill
Learning Word processor with MS Word
Preparing presentations with MS PowerPoint
Computer Basic knowledge
Concepts of the computer from the evolution of computer
The tally for financial accounting
Coding languages like C, C++, C#,
JavaScript and HTML
Understanding Operating System
Computer hardware knowledge
Management principles
Installing software
H/W configuration
System formatting
Multimedia software like Photoshop
CorelDraw and office management schedule
Graphic design skill-building
Working on the project for web design
Web development projects
ADCA course career
The ADCA course career perspective is high in the present scenario, the reason being. It offers many job oriented skills which can help you to work as
Program Development Manager
Internet marketing manager
Software development professional
System analytics,
Accountant
Programmer
Data management expert
Web developer
IT professional
After the ADCA course, the candidate can work in IT security companies, computer assembly companies, internet businesses, in many other businesses. Also, you can get ready for government jobs as well because these professionals are also required in governmental agencies.
ADCA Course Scope
ADCA course scope provides a wide range of possibilities ad the small and medium businesses require these professionals. After the course, you can become the DTP Operator, accountant, photo editor, graphic professional, freelancer, data entry operator, and many more. Also, you can move to further studies to get more in-depth knowledge about computer applications, for example, you can enrol for PDCA means Postgraduate Diploma in Computer Application. Also, you can enter to programming world after doing this course.
Where to do ADCA Courses?
Many institutions provide ADCA courses, but if you do not walk out there, then you can not get this diploma to fulfil your dreams. So, in that case, you can look out for online diploma certifications that provide value and quality education. The Acme Collin School is a government-approved organization that provides job-oriented courses at nominal charges so you can look at their course. The great thing about this is it has more than 70 reviews for the ADCA course with 5-star ratings. So, this will be a great choice if you look at the course. (Buy Now)
The procedure of Getting ADCA Course Certificate
Visit Acme Collins School
Search for Advanced Diploma in Computer Application Course or Click here
Check the course description and syllabus, if you are satisfied with it, Click on "Buy Now"
If you are a "New User", then you need to create an account or if you are a "Returning User" Then you can log in to your account with the email id and password you have.
Continue with the payment step
Choose Payment Method, Complete your payment. As soon as you complete your payment, you will be enrolled in the course.
Conclusion:
Thus, you have an idea about what is ADCA course, its fee structures, eligibility, top institution, and career perspective. So, if you have just started thinking to do the computer course and you are completely new or have just basic knowledge then you can go for this course.
If you like the information, then please share it with your friends and comment below for feedback.